The Medical Society of Northern Virginia Foundation is a 501(c)(3) philanthropic organization. Over the years, the MSNVA Foundation has donated hundreds of thousands of dollars, raised primarily from its physician members, to charities involved with the provision of care to children; to send medical/surgical teams to hospitals in third world countries; and generally to support the northern Virginia community.
Mission Statement
The MSNVA Foundation is dedicated to the advancement of medicine and patient care, by promoting physician-led, community-based projects to improve public health.
Funding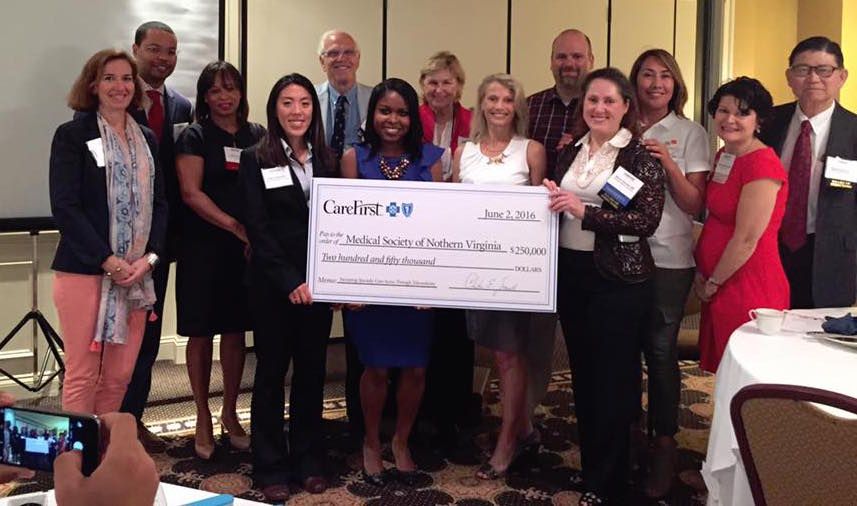 CareFirst grant award presentation to the MSNVA Foundation. The grant will be used to provide charity care through telemedicine.
Scholarships
To financially assist deserving medical students enrolled in a Virginia medical school, the MSNVA Scholarship program was re-established in 2010, it's supported by fundraising events and general contributions from MSNVA members. In 2011, the MSNVA Foundation awarded its first scholarships.
Starting February 1, 2017, we will be accepting scholarship applications. Please download the file here. Applications are due by 5:00pm on Tuesday, April 11, 2017.
Congratulations to all our MSNVA Foundation Scholarship recipients!
2016: Ginny-Claire Kim, University of Virginia School of Medicine
Tamara Saint-Surin, University of Virginia School of Medicine
View PHOTOS from MSNVA's Seventh Annual Legislative Breakfast 2016.
2015: Amar Mukhtar, Edward Via College of Osteopathic Medicine (VCOM)
Mana Sassanpour, Edward Via College of Osteopathic Medicine (VCOM)
Stephen Strong, University of Virginia School of Medicine
2014: Tracy Kovach, University of Virginia School of Medicine
Katherine McCabe, Virginia Commonwealth University Medical College of Virginia
2013: Christian Bergman, University of Virginia School of Medicine
Erin Ebaugh, University of Virginia School of Medicine
2012: Aparna Baheti, University of Virginia School of Medicine
Richard Murray, University of Virgina School of Medicine
2011: George (Christopher) Bailey, University of Virginia School of Medicine
Diseiye Iyebote, Virginia Commonwealth University Medical College of Virginia